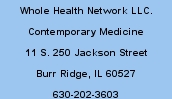 Now Offered by Release Toxins, LLC

Please Call 630/202-3603 To Schedule Your Appointment                               

New Client Examination and Consultation By Dr. Hesselink Prior to your First Session if necessary. Please allow 90 minutes        

Be sure to ask about follow up sessions of 3, 6, 9 and 12 sessions. Additives are extra and only used if the doctor suggest it.

Note: Illinois Dept. of Professional Financial and Professional Regulation requires an examination by a licensed medical doctor prior to a colon hydrotherapy session

New client 60 min Session $110(includes essential oils)

60-minute Session Massage (After initial session) $90

90-minute Session massage (includes essential oils) $120

Package of 8-60 minute Sessions $620 SAVE $100

New client 60 minute Session $115

60-minute Lymphatic Wand Massage (after initial session) $95

90-minute Lymphatic Wand Massage $130

Single Reflexology and Cygnus Agua Cleanse $75 Session

Package of 3 Reflexology and Cygnus Aqua Cleanse Sessions $175

Collage Combinations 

New Client Initial Lymphatic Drainage Massage 

and Lymphatic Wand Massage Session $210

After Initial Session Lymphatic Massage and Lymphatic Wand is $160

More Package Offers 

Combination of New Lymph Massage /Lymph Wand/Cygnus $210 

Lymphatic Wand and Cygnus per Session $100 

3-Lymph Wand/Lymph Mass/Cygnus Session Package $525

5-Lymph Wand/Lymph Mass/ Cygnus Session Package $875

Raindrop Therapy and Reiki per Session $120

15-Day EZ Detox Program 

4- Lymphatic Deep Tissue Massages + Detox Products 

Include: Colon Cleanses Caps, Colon Detox Powder, Probiotics, Liver Detox Tea,

Liver Tincture, Kidney Detox Tea, Kidney / Gallbladder Tincture, Earth's Nutrition & Enzyme Blend     

Total 15 day program $675 Save $80 

ART OF BARTER  PROGRAM 45% OF $500 =$225

The procedures administered by this office are non medical procedures. They are not intended to be a treatment , prescription, therapeutic or corrective measure for human ailments, symptoms or conditions of any kind. Only your license physician can provide such medical treatments. This office does not engage in the diagnosis, prescriptions or treatments of physical or mental aliments or conditions of any kind. Any medical complaints or request for diagnosis prescriptions or treatment of the human ailments should be referred to by your license physician.